About Us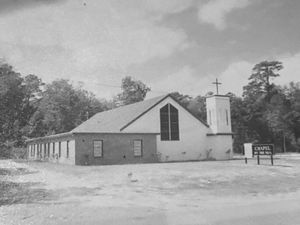 1968 
History Summary to 1982
 
In the Spring of 1937, Mr. and Mrs. J. P. Springs and Miss Mary Nixon felt the need for a church in the Cherry Grove Beach community and began to hold Sunday School during the summer months in the Springs' home.  Mary Nixon was very persistent in expressing her desire to take an offering each Sunday for the purpose of building a church.  The Nixon family promised to donate the land on which a building could be erected.
 
In the Spring of 1967, Mrs. Spring, realizing the need for a larger place to hold services, had an idea that perhaps Mr. C D. Nixon would permit the group to use his vacant building across the street from the Post Office of Cherry Grove.  He very graciously offered the building for the purpose of organizing a church.  At a meeting of those who were interested, an inter-denominational church was organized.  On May 28, 1967, the first service was held with 25 people attending, and an offering of $18.00 was collected.  The accumulated offering of $2,270.00 from the little Sunday School meetings was given to the new church. The Rev. A. G. Todd was unanimously elected as Pastor at the first business meeting held June 21, 1967. In October, 1968, ground-breaking ceremonies were held for the new building, and on December 22, 1968, the first service was held in the new chapel.  It was a chapel of grace and beauty and gifts from members, friends and strangers kept pouring in.  A dream had become a reality, and it is amazing how all this unfolded like the opening of a beautiful flower.
 
On May 19, 1980, Chapel By The Sea came into full fellowship with the Southern Baptist Convention.  A heated baptistery pool was soon installed in the sanctuary, and by February, 1980, additional Sunday School rooms had been built.  This addition was dedicated on May 25, 1980. On January 31, 1982, a mortgage-burning ceremony was held.